Animal Wellness Center of Pontiac
Our Team
We look forward to meeting you and your pet. Learn more about the people behind your pet's care below!
Animal Wellness Center of Pontiac's Veterinary Team
The team at Animal Wellness Center of Pontiac works together to provide a high level of compassionate medical and surgical care to our patients. We hope you enjoy the level of care we provide your pet!
Dr. John Burk
I graduated from the University of Illinois College of Veterinary Medicine in 1999.  Upon graduation, I moved to Indianapolis, Indiana where I practiced small animal medicine for eight years (including three years working for a 24 hour emergency and referral hospital). In August of 2007, I moved to Normal, IL., where I worked at Kruger Animal Hospital for 12 years before coming to Animal Wellness Center of Pontiac. I enjoy all aspects of veterinary medicine, especially ophthalmology, emergency, and internal medicine. 
Outside of work, I enjoy spending time with my wife, Amy, and our two children, Gabrielle and Logan. Our family also includes a Cavachon named Pippa, and an orange tabby cat named Kenny. I also enjoy reading, swimming, and golfing in my spare time.  
Shelly, Practice Manager
I joined the team in January of 2012. I enjoy all aspects of my job with the clients, patients, doctors and staff. I am blessed with two beautiful daughters and two son-in-laws. I am a Nana to three spunky grand-daughters and two smart grandsons. They bring me an abundance of joy. I enjoy hanging out with friends and family, writing, and staying active. I have a 65 lb Bernedoodle named Stanley that rides to work with me each day!
Mariah, CVT
I joined the team in May 2016 and am a 2016 Graduate of Parkland College (Champaign) Veterinary Technology program with an Associate in Applied Science. I was born and raised in Bloomington, moved to the Fairbury area, and graduated from Prairie Central.
There was never a time when I didn't have animals in her house – from rabbits to hamsters and dogs to cats. I enjoy engaging with a variety of patients and enjoy the challenges that make my job so rewarding. The love of an animal always brightens my day! In my free time, I enjoy drawing, reading, and walking outside. I love my barn cats and my Border Collie Mix, Daisy.
Tiffany, CVT
Hi, my name is Tiffany. I am a certified Veterinary Technician and I've been in the field of veterinary medicine for 9 years. I enjoy working with all animals and I'm proud to say I can do it every day. I have a miniature dachshund named Penelope. She is my furbaby! Outside of work I enjoy crafting and selling my homemade items. I also enjoy hiking on the weekends. In the spring and summer, I plant flowers and vegetables. My favorite flower to plant is sunflowers.
Becca, Vet Tech
I joined the team at Animal Wellness Center in March of 2017 as a kennel attendant and quickly moved up to the position of veterinary assistant. I am currently attending Penn Foster College's Veterinary Technician program with the dream of being a Certified Veterinary Technician. I enjoy applying my clinical skills to bring the best care to every pet that is seen. I am a proud dog mom to one handsome but hairy German Shepherd, and have also adopted a black cat named Luther! I live on a farm in the country and have a special passion for large-breed dogs and horses.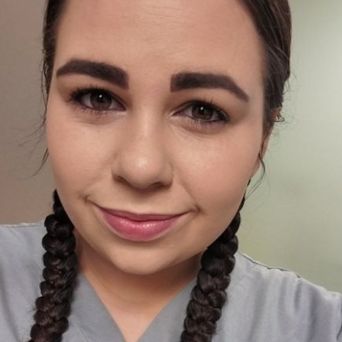 Brandy, Vet Tech
My name is Brandy Crenshaw, and I am 30 years old. I have been a tech for 10 years. I have a 4-year-old son. I love being a technician and I love spending time with my family.
Samantha, Vet Assistant
My name is Samantha, and I am a tech assistant. I love my job and helping with the animals we see. I am a mother of 2, soon to be 3. If I'm not at work you can most likely find me with my family enjoying the outdoors as much as the weather will let us.
Maddie, Vet Assistant
My name is Maddie, and I am a tech assistant. I plan to become a Certified Vet Tech through the Penn Foster program, which I will start in the next few months. I have a cat of my own named Safari, and I love her dearly. When I'm not at work, you can most likely find me hanging out with my two nieces. I love having the ability to help everyone's animals like they're my own!
Addison, Vet Assistant
I recently joined the Animal Wellness Center team in March 2023 through the Co-op program at Livingston Area Career Center and was then hired as a full-time veterinary assistant after graduating high school. I plan on pursuing my desired career as a vet tech in the future. I have a Great Dane and a Pomeranian, as well as
two cats, who I adore!
Donna, CSR/ Inventory Specialist
I began my position as a Receptionist in July 2019. I enjoy interacting with the hard-working staff; the pets with their families are delightful. I was born and raised in Pontiac. My husband, Rick, and I have two daughters, a son-in-law, and a precious, sweet granddaughter. I love to read, and I'm also a die-hard Cubs fan. Go Cubbies!
Shelley, CSR
I started as a CSR representative in July of 2020. I was born and raised I Pontiac and am lucky to have my mom and sisters and their families in town, as well. I have a daughter, son in law and three grandchildren, two girls and a boy, who bring me so much joy and I love to spoil them. I enjoy taking painting and other art classes and working on other crafts.
Jen, CSR
I joined the team as CSR in September 2022. I love learning about the veterinarin field and helping customers with their questions. In my spare time, I enjoy spending time with my daughter Michaela and husband. I also love to go off roading.